Understand Who Dermatologists are and How They Can Help You
What is a dermatologist? Why are they important? Well, your skin is the largest organ in your body, and acts like a shield to protect the internal organs, and a dermatologist is an expert to ensure that your skin remains flawless!
Now, let's answer the question what is a dermatologist? A dermatologist has expertise in hair, skin, scar treatment and nails. In the past few years, various tests and treatments have been developed for different conditions, be it hair fall/acne/fungal infection, etc. Let's get an insight into what is a dermatologist, dermatology and its connection with skin care.
Things to remember before visiting a dermatologist
1. Be prepared:
Before you visit a dermat, understand what is a dermatologist and be prepared with the symptoms you are facing, and your medical history. Our body is connected in every way possible. Hence, if you encounter an issue internally, it will reflect on your skin sooner or later.
Nonetheless, if you are visiting a dermat to get skincare treatments, try to have an insight about the treatment forehand, so that all the information you get doesn't overwhelm you.
2. Show pictures:
Especially for skincare treatments, showing the doctors old pictures can help them understand your skin better. It is not mandatory but don't shy away from providing the doctor information that might be useful for the treatment.
3. Advance booking:
Gone are the days when we had to sit in the waiting room for long hours to book an appointment. Almost every clinic has an online presence where you can book an appointment beforehand for a smooth appointment. If not online, you can also call the clinic and easily book your slot.
4. Don't expect drastic changes:
When you are about to visit a dermatologist, you might be wondering what is a dermatologist, and how they can help you. Let's understand this in detail. You shouldn't have a prior bar set in your minds regarding the results.
Since, dissatisfaction will arise if those bars are not met after the first session. To avoid such a situation, always remember your skin needs time to heal. Healing cannot take place overnight; only with consistent care and treatments will the skin start reviving.
Whenever you visit a dermatologist, keep your expectations upfront so they can guide you properly on how the process will take place.
Fun fact: Skin shreds 30,000- 40,000 dead skin cells every minute!
What do dermatologists do & the process of getting certified
The core job of a dermatologist revolves around the skin, hair, and nail conditions patients face. To get an insight into what is a dermatologist and what they need to study to become one, have a look:
Bachelor's Degree -
Duration - 4 Years
Medical School -
Duration - 4 Years
Internship -
Duration - 1 Year
Dermatology Residency Program -
Duration - 3 Years
Once these stages are successfully completed, one gets the license to work as a professional dermatologist.
The work of a dermatologist is divided into three parts-
1. Medical diagnosis
This is a stage where the dermatologist diagnoses the condition after performing the required tests for that condition. At times, the symptoms are enough for the diagnosis.
2. Surgery
Most dermatologists perform minor surgeries like removing warts or moles. However, other sections of dermats perform extensive surgeries, including removing cysts.
3. Cosmetic/Skincare
The skincare industry is flourishing left, right, and center due to the popularity of their treatments and mind-blowing results. One of the most popular treatments is laser hair removal, which is semi-permanent, and the process is short and comfortable.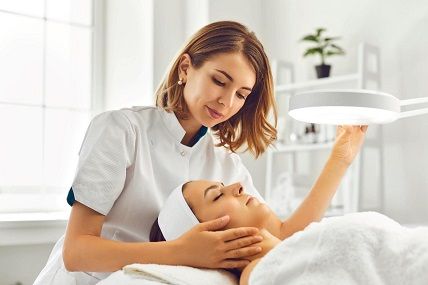 Here are some (of many) treatments dermatologists offer:
List of common skin conditions
Eczema

Fungal infection

Wrinkles

Dull/dry skin

Acne

Pigmentation

Sun damage
What is the right time to visit a dermatologist?
Now, you know what is a dermatologist. So, if you feel anything unusual in your skin/hair/nails, you need to book an appointment with a dermat today! Even though home remedies might sound easy and cost-effective, when an issue becomes persistent, home remedies stop working. For example, a highly accepted myth is that oiling your hair cures dandruff. On the contrary, certain skin types react to hair oils, worsening the situation.
These are some commonly ignored symptoms we should start taking seriously.
Sudden formation of moles

Itchiness/ skin flakes

Warts

Consistent hair fall

Wrinkles/saggy skin

Acne breakouts

Sun damage

Excessive dandruff

Discoloration of fingernails
Role of Dermatologists in Wrinkle Treatment
Understanding what is a dermatologist and dermatology is fairly simple. We discussed how the skincare industry is booming, and one of the most talked about treatments is anti-aging facial. This anti-aging treatment helps with skin elasticity, wrinkles and even reduces fine lines and signs of aging.
It is a painless process, and you will observe positive results from the first session itself. The technology used for the process is advanced RF technology + hyaluronic acid serum. This serum is considered a love potion for the skin, especially for youthful skin.
Process of anti-aging facial
Step 1: A mild cleanser removes excess oil/dirt from the skin.
Step 2: Toner is used to ensure the size of pores is decreased.
Step 3: RF technology to revive collagen production and make the skin soft.
Step 4: Electroporation is the next step, where hyaluronic acid is infused into the skin.
Step 5: The next step consists of a 30% lactic chemical peel to make the skin flawless and glowy.
Step 6: After the chemical peel comes extraction, all the gunk from the pores (whiteheads/blackheads) is extracted.
Step 7: The final step consists of a face mask enriched with vitamin-e to reduce the dullness and tighten the pores.
Once the process is over, your skin will visibly look vibrant and tidy inside out.
No more wondering what is a dermatologist, and which one is the best. We at makeO skinnsi have a team of dermatologists with decades of experience in their field. To make our customer's life easier, we have at-home services, so you don't have to move an inch to avail the services. We understand how tight the schedules are these days. Hence, our services are just one click away.
Give your skin what it deserves and book a session with us today!
About makeO
makeO is the first of its kind at-home oral and skin care services in India, that is focussed on providing technology and science-backed solutions to its customers.
makeO will offer expert-backed oral and skin care solutions such as teeth alignment with clear aligners, laser hair removal, hydra facial, acne treatment services, anti-ageing treatments, and premium products, including electric toothbrush, teeth whitening kit, aligner cleaning foam, face wash, toner, etc. – all of which are available directly at customers' doorstep as well as at makeO experience centres and partner clinics.
AMPA Orthodontics Pvt. Ltd. An ISO 13485:2016 Quality Management System certified by Zenith Quality Assessors Pvt Ltd and US FDA Cleared.
© 2022 makeO. All right reserved.