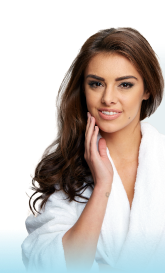 what is a hydrafacial?
A powerful, non-invasive skin rejuvenation facial designed by expert dermatologists to give you the best skin of your life.
completely painless service
personalised treatment from dermats
choose a hydrafacial solution
that better fits your skin need
Why skinnsi hydra-facial treatment?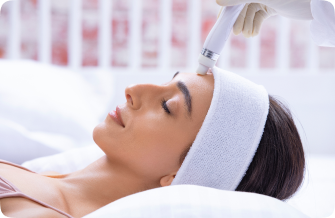 every skin concern is unique and so should be its treatment. We will curate a treatment that's right for you, exclusively for you.
personalized treatment
Skin assessment by our expert dermats
Personalised treatments curated by dermats and performed by a dermat trained therapist
Online dermat supervision and post session care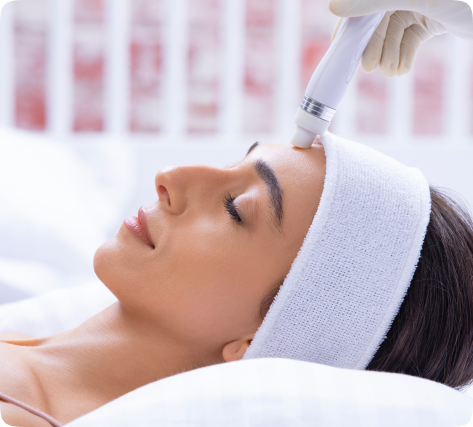 for all skin types
dehydration and dullness spare no one, not even oily skin. lucky you, our hydra glow facial is for all skin types!
concerns it treats
to say our hydra-facial treatment is pampering is an understatement. While rejuvenating your skin, here are some of the concerns it'll also take care of:
hyperpigmentation
oily skin
fine lines and wrinkles
clogged or enlarged skin pores
mild acne
It's benefits are
to say our hydra-facial treatment is pampering is an understatement. While rejuvenating your skin, here are some of the concerns it'll also take care of:
it leaves a hydrating glow.
it prevents new pigment formation.
it eliminates gunk, bacteria, and toxins.
it reduces the chances of new acne and pimples.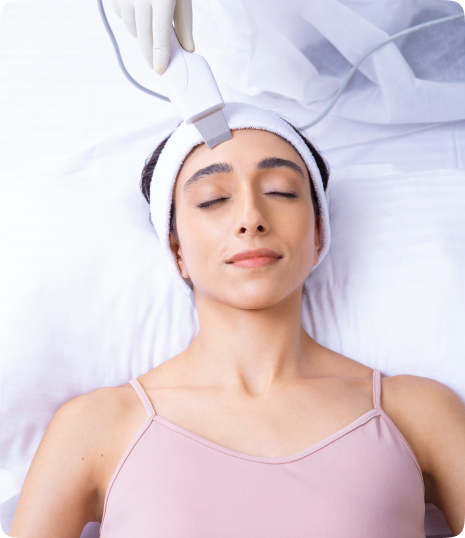 how does hydrafacial work?
Assesses your skin and shares with our dermats
Dermat suggests treatment plan
Dermat supervises digitally
love letters
Sweet clients. Sweeter testimonials.
I have done hydra facial with Gauri...A great experience nd hygiene....better than to go parlour
I loved the service, at home and hygienic. The problem of stepping out for getting waxing and facials is solved now 😍 Guys go for it 👍🏻
My husband had taken Hydra Facial with chemical peel from Skinnsi. The result was awesome. His face look fresh and bright. All his death skin were removed. Thanks to Minlal who had done the session. Best part in Skinnsi is at home service and experience therapist.
read more
#skinnsitribe
See what our skinnsi tribe has to say
Bhumi
Isha Jhaveri
Alina Gala
What Is Hydrafacial And How Does It Help?
Dehydration can cause our skin to become worn, spotty, or flaky. Our bodies need water to thrive and live. But only drinking water is not enough. Our skin requires further hydration, but how? Don't worry, we've got your back as we have a refreshing alternative just for you! A spa-like rejuvenating treatment designed by our dermatologists, it corrects uneven skin tone, prevents future breakouts, and reduces pesky greasiness. Because let's be honest, more than triggering acne and clogging pores, it's the slick shine on the skin that ruins the mood or even confidence. Right?
At skinnsi, we've got a variety of dermatologist-backed facial solutions, one of which is hydrafacial that's tailored to your skin type and uses cutting-edge technology that allows you to pamper your skin effortlessly!
It would be an understatement to say that our hydrafacial treatment is pampering. We use the latest patented technology for cleansing, toning, exfoliating, and hydrating. skinnsi's hydrafacial makes your skin soft, plump and hydrated restoring its fresh appearance while also addressing concerns like hyperpigmentation, oily skin, fine lines, and wrinkles.
Is Hydrafacial Treatment The Best Option For Dry Skin?
Tired of getting the same old facial at the salon? We feel you, and we have got news for you! Hydrafacial by skinnsi is here to your rescue. It is a dermatologist-backed facial solution that's personalized as per your skin type and can be an effective treatment to deal with dry, dead skin and wrinkles on the face. Our expert dermatologists have developed hydrafacial, especially for dry skin using new-age technology. Although it is beneficial for all skin types, it is the best facial for dry skin. As water is the main ingredient in this type of facial, this hydrating facial makes the skin smoother, plumpy, and hydrated. Hydrafacials are ideal for anyone—men and women, with any skin type, no matter their age.
skinnsi's hydrafacial at home cleanses, exfoliates, and infuses skin with serums, leaving you with the smoothest and clearest skin you've always wanted. It gives an instant glow and fresh clear skin. The results can last for 15-30 days and our dead skin layer start forming again. Hence, the procedure must be included in your regular skincare regimen. It helps in reducing the oiliness of the skin and slightly lightens the dark spots with progressive sessions.
Benefits Of Taking Hydrafacial Treatment From skinnsi by makeO
You might have already heard about the benefits of hydrafacials, but when it comes to skinnsi's hydrafacial at home, there are a lot more advantages than just those. Hydrafacials are facial spa treatments that pamper your skin the way it deserves to be! Because let's face it, your skin has a lot to deal with on a daily basis, from sweat to air pollution. Add factors like stress to the mix, and it'll start to show on your skin. So why wait to rejuvenate your skin?
It's easy with skinnsi's hydrafacial service. How? Read to find out.
1. Supervised and customized solutions by dermatologists:
Our expert dermatologist will assess your skin to develop a personalized hydrafacial treatment plan according to your unique needs. It will be performed by a dermat-trained therapist. They would also be assisting in post-session care.
2. FDA approved:
Our process is FDA approved and is absolutely safe and painless. Completely relaxing, comfortable, and pleasant.
3. At home service:
No more visiting clinics and parlors. We visit you at your home.
3. Concerns it treats:
To say our hydrafacial is just for dry skin would be incorrect. While hydrating the skin, it also takes care of skin concerns like:
Hyperpigmentation

Oily skin

Fine lines and wrinkles
What Is Hydra Facial Treatment Cost In India?
You might think that an at-home hydrafacial cost in India might be a lot. Well, be prepared for a mind-blowing revelation because hydrafacial at skinnsi start at just ₹1,166 per month!
We know one can't put a price on a rejuvenated and refreshed skin. But no cost EMIs help, right?
With a significant improvement in just one session, our hydrafacial will help replenish your skin, making it smooth and silky. A hydrating facial at skinnsi starts at ₹ 5000 for 1 session.
HydraFacial for acne
We all are aware how annoying acne can be! It can sometimes ruin our plans for dates or parties. It's about time we put an end to our acne woes. But let's see how acne appears!
When dead skin cells or excess oil get trapped in our pores, acne can occur on our face, chest, arms or back. Most of them might disappear with time but some stay back until treated upon.
A hydrafacial for acne is a state-of-the-art facial that cleanses and extracts impurities from the skin while hydrating the skin at the same time. Having said so, hydrafacial treatments are suitable for all skin types. skinnsi offers customized solutions based on your skin concerns— skinnsi peel and skinnsi scar reduction.
skinnsi peel is an effective acne treatment that uses a mild medicated solution derived from fruits. skinnsi scar reduction is a laser process where radio waves are sent to specific areas of the skin to increase collagen production for tighter, smoother skin. Don't worry, it is completely safe.
HydraFacial for blackheads
Hydrafacial is a non-invasive cosmetic treatment that involves three major steps that can help deeply cleanse, exfoliate and hydrate the skin. Hydrafacial can help improve your overall skin appearance by deeply exfoliating your skin.
But what exactly are blackheads, and why do we get them? Blackheads are formed due to a combination of dead skin cells and excess oil clogging your pores.
A Hydrafacial treatment at skinnsi can help clear out clogged pores by shedding dead skin cells and by getting rid of dirt, excess oil, and other debris from your pores.
This can not only remove existing blackheads by extracting debris from your pores, but also prevents new ones from forming up by allowing trapped oils to escape faster.
HydraFacial for anti-ageing concerns
Are you worried about the visible signs of ageing showing on your face and unsure about the best anti-ageing skincare routine for you? Don't worry, we have the perfect hydrafacial for you to get rid of those fine lines and wrinkles. But first, what exactly is an anti-ageing facial and how can it benefit you?
A hydrafacial is a non-invasive treatment that can help prevent or reduce age spots, lines, and wrinkles, lighten hyperpigmentation and tighten the skin. It focuses on skin nourishment and skin replenishment in order to improve elasticity and reduce signs of ageing.
skinnsi's hydrafacial for anti-ageing works as a preventative measure for those who are in their early 20s and can help reverse the signs of ageing for those 40+. It helps fight the war against loose and tired-looking skin while also giving you a spa-like rejuvenation.
How to Book a Hydrafacial Treatment at Home?
Now that you know all about hydrafacials, let's see how to book a hydrafacial. Here's what you need to do:
Head to our website and tell us your skin type.

After you've done that, you can choose from our selection of at-home facial treatments you feel are best for your skin

Once you choose, go ahead and book yourself an appointment with us.

After booking an appointment with us, just sit back and relax as you are just a few steps away from your desired skin
AMPA Orthodontics Pvt. Ltd. An ISO 13485:2016 Quality Management System certified by Zenith Quality Assessors Pvt. Ltd.
© 2022 makeO. All right reserved.