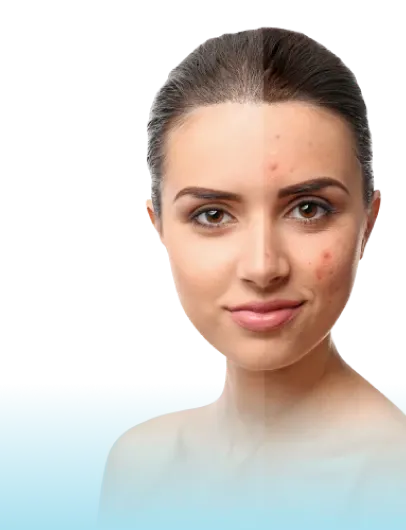 treat acne from the comfort of your home
Get solutions for a clear skin, that'll stay clear.
FDA approved & totally safe
our treatments
It's the expertise that makes all the difference. Our customized treatments use clinically-proven ingredients & dermatologist-certified therapists. Tough on acne, gentle on skin.
trouble choosing?
Get an expert recommendation from our dermats
how it works
fill assessment form
Help us curate the best treatment for you
get customised solutions
Get best solutions from our expert dermats
at-home
All of this from the comfort of your home
healthier, happier skin awaits you
skincare is self-care.
so we made it affordable.
EMI always helps
starting from
1166
per month.*
*T&C apply
What are Symptoms of Acne?
Acne is one of the most common skin disorders that affect people in the age group of 15-30 years. It occurs mostly when people hit their puberty. Even though it does not adversely affect overall health, it can either leave acne scars or pimple marks. Apart from appearing on the face, acne can occur on arms, legs, shoulders, back and chest. It lasts for a few days and or months. But don't worry, you can not only easily identify acne, but can take help of our acne treatments to get rid of them. Yes, that's right!
What Are Acne Symptoms?
Crusting of skin bumps
Cysts
Papules
Pustules
Whiteheads
Blackheads
Based on the symptoms, our dermatologists will recommend the right acne treatment that will help get you clear skin.
A word of caution: You may get acne scars if you pop a pimple. So, avoid touching your face when you get acne.
What are Causes of Acne?
Acne, pimples or zits! They are all annoying especially when they occur on the day when you have a big party planned. It's about time we get rid of them with a right acne treatment. But first, let's look at the causes of acne. There are a lot of factors that contribute to the appearance of acne.
Here are some of them:
1. Hormonal imbalance: Fluctuations in hormones increase oil secretion. The oil then interacts with the bacteria found on the pores of your skin, causing acne that lead to acne marks
2. Diet: Carbohydrate-rich food such as bread, bagels, chips can trigger pimples.
3. Genetics: Now if your parents had acne in their growing years, you are likely to develop pimples too. But the good news is you can get our dermatologists supervised pimple treatment at home.
4. Stress: Stress doesn't cause acne, but it worsens your acne. So, quit stressing about acne scars. Our dermatologists will provide you with the best acne treatment.
5. Makeup products: If your skin is prone to pimple or pimple marks, it could be because of harsh ingredients present in your makeup products. So, it's important to choose products that are suitable for your skin type.
Remember, popping a pimple may cause pimple marks. Instead treat it with our dermatologist recommended pimple treatment to get clear, smoooth skin.
How is acne diagnosed?
Usually, people can diagnose acne on their own. They can easily recognise the symptoms by looking into the mirror. However, it may differ in its severity. So, consulting an experienced dermatologist to formally spot acne or pimple marks is always a better idea. Especially because there are atleast 6 types of acne and there is a different type of acne treatment for each of them, which includes treatment for acne scars. Yep, that's right! Besides, there are also a lot of skin conditions that may seem like acne, but they need a different treatment.
A dermatologist will take a closer look at your skin to diagnose acne. They will review your family history and medications to determine the cause of your acne. They may ask questions pertaining to your skincare routine or whether you are experiencing menopause or suffering from any skin condition. Once the skin examination is done, they will either prescribe you medication or an acne treatment, depending on the severity of your condition.
Now, it would be great if you had to just make one appointment, take the medication and never have to worry about acne again. But unfortunately, acne does not work like that. It may take a few more appointments for the dermatologist to hit the right acne treatment or a pimple treatment. So be patient and don't be discouraged if you have to visit your dermatologist a few more times.
Did you know open pores tend to get clogged, leading to acne? Yeah, absolutely! So don't forget to ask your doctor to examine your pores and whether you need to undergo open pores treatment or get any of the facials for open pores. If you have acne scars, discuss with your dermat about the possible treatments for acne scar removal. You will be amazed at all the options available for clear, smooth skin. Mild acne often doesn't need medical consultation and can be treated at home with the help of home remedies or over-counter medicines. But if your acne is severe or notice changes in its characteristics, we recommend that you see a dermatologist and get the right acne treatment.
What are Types of Acne?
Like mentioned earlier, there are various kinds of acne that need different acne treatment! Depending on the severity, your dermatologist will suggest a treatment that will reduce your enlarged pores, acne scars and pimples. But you can definitely find a solution for your acne scars or pimple marks.
Here are some various types of acne:
1. Whiteheads: Whiteheads are small bumps that form on your skin because of clogged pores. They are either white or yellowish in colour. They are considered to be the mild form of acne.
2. Blackheads: Just like whiteheads, blackheads are small bumps that form on your skin owing to clogged pores. They are called blackheads because their surface looks dark or black in colour.
3. Cysts: These are painful. Cysts are pus-filled pimples that form deep under the skin. They are considered to be the severe type which are likely to cause scarring. But don't worry, you can opt for an acne scar treatment and get rid of your acne scars.
4. Pustules: They are basically pimples that contain pus. Pustules are small red bumps with white or yellowish centres. You can get rid of them with the help of an acne treatment. Avoid touching them, if pricked they can cause acne scars.
5. Papules: Formed because of clogged pores, papules are small bumps on the skin. They don't contain pus or contain white or yellowish centres. They evolve into pustules over time. The best way to treat clogged pores is either through open pores treatment or facials for open pores.
Which acne treatment is best?
Acne treatment
Skinnsi peel is an effective acne treatment which removes dead skin cells and pulls out excess oil and dirt from clogged pores with the help of mild medicated solution that is derived from natural fruits.
How does it help:
It heals your acne faster
It reduces excess oil and fights zits and pimples
Why must you choose skinnsi peel for your skin
It is supervised by the best dermatologists
It is performed by exceptional therapists
It has minimal downtime
It is suitable for all skin types
Besides, it is completely safe, comfortable and painless. Our therapists, who are trained under the supervision of experienced dermatologists, will visit your home for this acne treatment. skinnsi peel treatment is customized as per your skin type to reduce your pimple marks and acne scars. For the best results, 4-6 sessions are recommended. Each of them needs to be apart by 3-4 weeks.
Laser treatment for acne
With the help of advanced technology and under the supervision of the best dermatologists, skinnsi scar reduction has managed to give people clear skin. And the best part, it is painless and can be done in the comfort of their customers' house. Sounds like a dream, right?
Let's look at skinnsi's laser treatment that can reduce acne and acne scars:
skinnsi scar reduction
skinnsi scar reduction is a laser process where radio waves are sent to specific areas of the skin to increase collagen production for tighter, smoother skin. Don't worry, it is completely safe.
What are some of the benefits of this laser acne treatment?
It reduces acne scars from your face
It reduces enlarged open pores
What makes scar laser reduction is a great option for your acne scars:
It is UFDA-approved
It is dermat trained and certified therapists
It is minimally invasive
It is suitable for all skin types
AMPA Orthodontics Pvt. Ltd. An ISO 13485:2016 Quality Management System certified by Zenith Quality Assessors Pvt. Ltd.
© 2022 makeO. All right reserved.