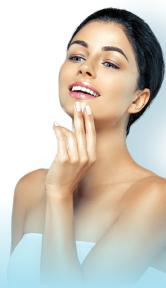 relax. replenish. rejuvenate.
give your skin the love it deserves with our at-home dermafacial solutions. scroll to know more.
choose a solution
that better fits your skin need
still looking for a reason to try dermafacial?
let's tell you a little more about it.
Skinnsi dermafacial procedures are curated by a team of expert dermatologists just for you and are delivered through clinically backed latest technology.
benefits of skinnsi dermafacial :
spa for your face
Because from pollution to sweat, your face deals with a lot every day.
instant results
You will feel fresher after just a single session of dermafacial!
curated by dermats
Your facial at home is curated exclusively by our experts.
how dermafacial is different from regular facial?
Here's why switching would be the smooothest thing to do.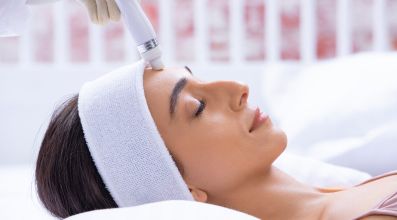 skinnsi dermafacial
Curated and performed by dermatologist trained therapist
We use special tools that are sterilised
Uses only dermatology-approved solutions
We use derma-designed solutions
No skin reaction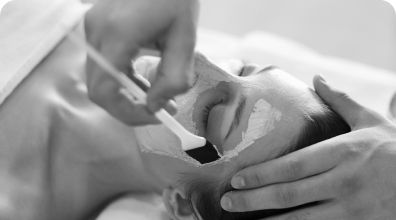 regular facial
Performed by a less qualified parlour aunty
Done with bare hands
Uses scrubs and creams that are not necessarily skin friendly
Regular creams available in the market
Can cause skin reaction
booking a session is simple, but how does it work?
pick a solution
choose the facial at home you feel is best for your skin
book an appointment
you are just a few steps away from the skin of your dreams
sit back and relax
we've got you covered from here!
you go easy on your face.
we go easy on your pocket
EMI always helps
starting from
2333
per month.*
*T&C apply
love letters
Sweet clients. Sweeter testimonials.
I have done hydra facial with Gauri...A great experience and hygiene....better than to go parlour
I loved the service, at home and hygienic. The problem of stepping out for getting waxing and facials is solved now 😍 Guys go for it 👍🏻
My husband had taken Hydra Facial with chemical peel from Skinnsi. The result was awesome. His face look fresh and bright. All his death skin were removed. Thanks to Minlal who had done the session. Best part in Skinnsi is at home service and experience therapist.
read more
#skinnsitribe
See what our skinnsi tribe has to say
Bhumi
Rabiya
Isha Jhaveri
What is dermafacial & hydra-facial treatment?
Tired of the same old facial at the salon? We feel you, and have got a refreshing alternative just for you! Say hello to dermafacial by skinnsi - a dermatologist-backed facial solution that's curated as per your skin type and uses new-age technology that lets you pamper your skin effortlessly!
At skinnsi, we've got a variety of dermatologist-backed facial solutions, one of which is hydra-facial treatment. Designed by our dermats using patented technology to cleanse, exfoliate & hydrate, hydra-facial treatment is the best dermafacial solution for dry skin.
What are benefits of a dermatologist-backed facial by skinnsi?
You already know that it's curated by our dermats specifically for your skin type, but when it comes to the benefits of dermafacial, there's so much more to it than just that! Now that you know what is hydrafacial & dermafacial? Let's get to know each benefit in greater detail, shall we?
It's like a spa session for your face, dermafacial which gives your skin the pampering it so deserves! Because let's be honest, from sweaty rush-hour travel in the scorching sun to combating air pollution, your skin has to deal with a lot on a daily basis. Add to it factors like stress and you'll see it all start to take a toll on your skin. So why keep waiting to rejuvenate your skin? Do it with one of our dermatologist-backed facial solutions like hydra-facial treatment!
New-age technology paired with our dermats' expertise means that your skin will start to feel fresher, smoother and more radiant right after your first session of dermatologist-curated facials like hydra-facial treatment. Isn't that amazing?
Also, whoever said that stepping out and heading to a salon is necessary for getting a facial surely never heard of our at-home dermafacial solutions! That's right, all our treatment options, including hydra-facial treatment, are done right in the comfort of your home by our skinnsi pros who are trained by dermats. Speaking of which, all of your dermafacial sessions are also supervised by dermats. So sit back, relax, put on your favorite playlist and give your skin the pampering it deserves!
You must be thinking, all of this, that too at home, would burn a very big hole in your pocket, right? Wrong! Because when it comes to dermafacial & hydra-facial prices, you'll be surprised to know how just affordable they are. Head to the next section where we reveal how much a dermafacial solution like hydra-facial costs in India!
What is Dermafacial & hydra-facial treatment cost in India?
Like we mentioned earlier, you might feel that an at-home dermafacial treatment like hydra-facial costs a lot in India, since it's curated specifically as per your skin type and supervised by dermats throughout.
Well, be prepared for a jaw dropping revelation, because for dermafacial solutions like hydra-facial, prices at skinnsi start at just ₹1,166 per month! Say whaaaat????
That's right! Because we know that one can't put a price on a refreshed, rejuvenated and most importantly, happier skin. But no cost EMIs always help, right?
So when it comes to a specific type of dermafacial treatment like hydra-facial, the price is super affordable and so worth going for in the long run.
Because not only does your skin get the benefits mentioned above, but also if you face issues like excessive dryness, you'll get softer, smoother, and a more plump skin, thanks to our new-age technology & methods like H2 therapy, hydradermabrasion, electroporation, H2 therapy, alongside the usual cleansing and toning.
Hydra-facial treatment vs. Microdermabrasion: Which treatment is better?
Now that we know a fair deal about dermafacial, let's get to know a specific kind of dermafacial treatment in hydra-facial. We've already touched upon the various new-age processes we use to give you glowing skin. But you might be wondering as to how they are different from other methods and processes.
Let's compare skinnsi's hydra-facial - cost of which in India starts at ₹1,166 per month, and the already existing and commonly used method called microdermabrasion.
We're already aware of hydra-facial, its cost in India, and all the processes this treatment includes, but in the case of microdermabrasion ,skin conditions like fine lines, oily skin, and large pores are targeted. Also, the top-most layer of the skin, i.e. the epidermis is peeled off from your skin's surface in this treatment with the help of a wand that exfoliates your skin, eliminating dead skin in the process. While both procedures focus on skin exfoliation, with hydra-facial you get the flexibility of customized treatments. Also, the hydration applied during hydra-facial penetrates deeper than the manual application that happens during microdermabrasion.
What happens in a typical hydra-facial treatment?
As stated earlier, hydra-facial treatment is best for you if you've got dry skin. That being said, it also treats skin problems like dark spots, fine lines, clogged pores, fine lines, dead skin cells, and wrinkles. This treatment soothes, moisturizes, and revitalizes your skin, and because our dermats carefully curate this treatment for you, it is absolutely safe and gentle for your skin.
A typical hydra-facial treatment has the following 9 steps:
1. Cleansing -
Eliminates dead skin & excess oil.
2. Toning -
It gets rid of debris and oil from your pores while shrinking them at the same time.
3. H2 Therapy -
H+ ions take out damaging active oxygen ions produced in the skin
4. Hydradermabrasion -
Adds moisture to the skin thanks to hydrating solutions, i.e. lactic acid and hyaluronic acid, thereby reducing pigmentation and making your skin soft and hydrated.
5. Electroporation -
Ensures deep penetration of hyaluronic acid into the skin, leaving it hydrated and glowing.
6. Peel -
Our lactic peel makes your skin smooth & glowy.
7. Extraction -
Eliminates black and white heads with ease.
8. Tightening -
Our special device tightens and relaxes face muscles repeatedly.
9. Mask -
Ensures more hydration and soothing of dry skin.
How does dermafacial work?
So now that you know quite a lot about it, what's stopping you from getting one? For dermafacial treatments like hydra-facial, prices start at just ₹1,166 per month, making the cost of hydra-facial in India worth every penny!
Made up your mind to get one for yourself? Let us tell you how it all happens, step by step.
Step 1: Head to our website and tell us your skin type.
Step 2: After you've done that, we'll present to you our various at-home dermafacial treatment options curated specifically for your skin type.
Step 3: Once you've chosen the one that's best for your skin, go ahead and book yourself an appointment with us. Get excited, because you are just a few steps away from the skin of your dreams!
Step 4: After your appointment is booked, just sit back and relax. Our dermats & skinnsi pros have got you covered from here!
What can you expect after getting a dermatologist-curated facial?
"But what happens once my dermafacial treatment is done?"
Well, how's this for a start? Brighter, smoother and an even toned skin. Because that's exactly what happens at the end of your dermafacial treatment. Also, if you were facing a specific issue such as dry skin, fine lines and black & white heads, you'll see them subside as well.
Meanwhile, don't worry if your skin experiences a little redness once the treatment is done. Rest assured that it's just a mild reaction to the treatment. It will go away on its own within a day and will not cause any trouble or disruption in your day-to-day activities.
Results last for about a week, or even longer in some cases. That being said, we recommend 4-6 dermafacial sessions, 4 weeks apart for best results. This is because results improve over a series of treatments.
While you're here, why don't you check out our post-treatment care tips.
What treatments do we offer under our dermafacial treatment
Based on your skin type and specific requirements, we offer a range of dermafacial treatment options including the likes of hydra-facial, prices of which start at ₹1,166 per month.
With that being said, say hello to our dermafacial treatment options:
Oil Control Facial: Get oil-free skin with a super convenient, customized and dermat-supervised facial at home.
Instant Glow Facial Why step out for that gorgeous glow, when you can get it at home with a customized glow facial specifically for your skin?
Hydra-facial: Keep things fresh, all day, every day with skinnsi's hydra-facial, cost of which in India starts from just ₹1,166 per month!
Anti-aging Facial: Say goodbye to wrinkles & fine lines with our anti-aging facial that's backed by new-age technology and our dermats' expertise!
Hydrapolishing: Leave uneven skin tone behind and say hello to a fresher, more glowing skin.
Want to get yourself a dermafacial treatment? Don't worry about the prices, as hydra-facial and our other treatment options come with a no cost EMI option as well. Now that's refreshing (pun intended) to see!
Why choose skinnsi for dermafacial?
All things said and done, it eventually comes down to this! So why should you choose skinnsi for your dermafacial treatment?
Invaluable Expertise: Our dermats have years of experience, so you can be sure that a lot of thought, research and expertise goes into curating your treatment plan.
New-Age Technology: Along with our dermats' expertise, it is the new-age tech we use that lets us achieve the results that we do, to give you the skin you've always desired!
Ultimate Care: All our sessions are performed by dermatologist-trained skinnsi pros, and are virtually supervised by our dermats. Not just that, we only use advanced tools that are safe & sterilized. Click here to learn more about the COVID safety protocols we follow. Also, we only use dermatologist-designed serums & solutions, thereby ensuring that the treatment doesn't cause a skin reaction.
Super Savings: Worried about how much dermafacial treatment options like hydra-facial cost in India? Worry no more, because at skinnsi, prices of hydra-facial and all our other dermafacial treatment options start at just ₹1,166 per month! Talk about saving like a pro.
So what are you waiting for? Click here to book an appointment today!
AMPA Orthodontics Pvt. Ltd. An ISO 13485:2016 Quality Management System certified by Zenith Quality Assessors Pvt. Ltd.
© 2022 makeO. All right reserved.