How to choose the best hair removal method for you?
When it comes to last-minute hair removal, razor supremacy is unbeatable. But is it a suitable and safe method for your skin? With the world moving from waxing and threading to long-term hair removal methods, we bet you'd want to consider a more comfortable, convenient, and safer option.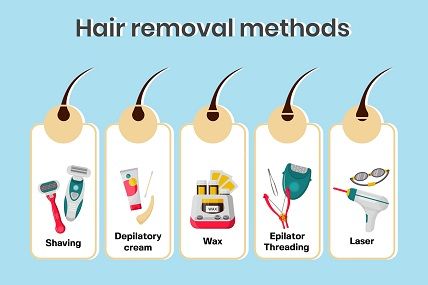 So yes, let's give that razor a breather and find out which hair removal method is best for your skin.
Lucky for you, getting rid of unwanted hair growth isn't as inconvenient as it used to be. Long-term solutions such as laser and electrolysis are in demand as much as waxing, threading, and razors. But, which one is suitable for your skin? There's only one way to find out. You'll have to start from the beginning!
So, buckle up as we deep dive into everything about hair removal, its methods, and more below:
What is hair removal?
Once puberty hits, your body wakes up to different and new changes every day. One of them being unwanted hair growth in areas that may cause hygiene or aesthetic concerns. That's when we start considering body hair removal methods.
Hair reduction or removal (also known as epilation or depilation) is a process that removes unwanted body hair and leaves the skin soft, smooth, and stubble-free. And thanks to progressive technology, there are many popular methods on the market today that are super convenient and comfortable compared to earlier times.
How have hair removal methods evolved?
Like everything else, hair-removing methods have come a long way. If you thought waxing, shaving or threading is how it all began, then here are some fun facts we bet you didn't know:
The hair-removing process dates back as far as 10,000-30000 BC! Back then, they used seashells as tweezers, and flint (sharp-edged mineral quartz) was the popular shaving tool.

Another ancient process of hair removal was body sugaring. Practised in Egypt and the Middle East, body sugaring would remove the hair shaft temporarily, thus leaving the skin soft and smooth.
But thanks to technology, we've moved on from seashells and sugaring! #Phew
What are different methods of hair removal today?
When it comes to hair reduction or removal options today, one is bound to feel spoilt for choices. Be it razors or lasers, they all do what they intend to— remove hair. The only difference is how they do it and how comfortably they do it:
1. Shaving:
Whether you use a disposable razor or electric shaver, the process cuts off the hair at the skin level. The effect is temporary and may last a few days (max a week!) before the area is likely to need a shave again. The best takeaway, you can do it yourself at home, and it doesn't require professional help.
Pros of shaving:
Cons of shaving:
Hair grows back sooner

High risks of cuts or razor burns

Not suitable for facial hair reduction (for women)
2. Waxing:
In contrast to shaving, waxing removes hair from the roots, so you can enjoy a good 2-3 weeks of hairless glow. The hair grows back finer, softer, and is less noticeable than shaved hair. You can do the procedure at home with wax strips or go to a salon for professional help.
Pros of waxing:
Clear, smooth skin

Slower, finer hair growth

Hairless glow for up to 3 weeks
Cons of waxing:
Painful

Time-consuming

May cause bumps and rashes

May require professional help
3. Threading
To remove hair in small areas such as the upper lip, chin, forehead, or eyebrows, threading is a great option. The process plucks hair from the roots in a line-like pattern and keeps the area hair-free for up to 10 days!
Pros of threading:
Quick process

Slows hair growth
Cons of threading:
Somewhat painful

May require professional help

Not suitable for large body areas
4. Hair-removing creams
Hair-removing creams have chemicals that dissolve hair at the skin level. The effect may not last as long as waxing, but the process is painless and makes skin super smooth. The best part is you can do the procedure at home. All you need to do is apply the cream. Wait 10-15 minutes, then clean the area with a soft cloth or plastic spatula.
Pros of hair-removing creams:
Painless

Cost-effective

Suitable for large body areas
Cons of hair removing creams:
Time-consuming

Messy procedure

May cause skin irritation

Not suitable for sensitive skin
5. Epilator
An epilator is a battery-powered device that pulls hair out from the roots (just like waxing). It leaves the skin smooth and hair-free for up to 3 weeks. However, it's suitable for those with a high threshold for pain as the device pulls out multiple strands of hair at one time as it moves on the skin.
Pros of epilator:
Smooth skin

Cost-effective

At-home procedure

Finer hair growth
Cons of epilator:
6. Electrolysis
Recognized by the USFDA as the only permanent hair removal method, electrolysis is a process where an electric current is passed through a very fine probe (needle) to destroy the hair follicle. The procedure can only be performed by a professional and can be time-consuming since it removes strands of hair one at a time.
Pros of electrolysis:
Clear smooth skin

Requires few follow-ups

No to very fine hair growth

Suitable for all hair types
Cons of electrolysis:
Expensive

Slightly painful

Time-consuming

Not recommended for large body areas
7. Laser hair reduction
Compared to electrolysis, laser hair reduction is relatively painless. It reduces hair growth over a period of time without affecting the surrounding skin. Even if the hair grows back, it's finer, lighter, and softer. Laser hair removal treatment destroys the root of the hair and makes it dormant in the long run.
Pros of laser hair reduction:
Comfortable

Smooth glowing skin

Suitable for dark coarse hair

Recommended for all body areas
Cons of laser hair reduction:
Expensive

Time-consuming

Requires professional help

Require multiple sessions
But if you choose LHR (laser Hair Reduction) at makeO skinnsi, the process is super comfortable, super convenient (for your pockets), and requires zero to minimal downtime. We provide our service in the comfort of your home, and our packages are super pocket-friendly. And as for the result— we guarantee hair reduction of up to 90%!
Now, the important part:
How to select a hair removal method for your skin?
Your skin is unique. Please remember that. So naturally, some hair removal methods may not be suitable for your skin or hair type. Some may even cause irritation or other side effects in certain areas of the body. Hence, the expertise of salon aunties may not suffice in such situations.
Here are two things that you can do:
1. Consult a dermatologist:
Visit the dermatologist to figure out your skin and body hair type. For sensitive or extremely sensitive skin, temporary solutions such as waxing, shaving, epilating, and hair creams may cause side effects. So it's best to seek expert help (from a dermatologist) if you are unsure about your skin-hair type or have experienced side effects earlier.
2. Come aboard makeO skinnsi:
If you are sure about choosing a long-term hair removal method, we recommend our laser hair reduction service. Our sessions are not only dermatologist-supervised but are performed by professionally-trained experts in the comforts of your home.
If you do come aboard makeO skinnsi, here's what you can expect from our LHR (Laser Hair Reduction) service:
1. All-skin-friendly: We use the latest Quadruple Wavelength Laser, which has an icy-cool technology to make sure your skin is unhurt during the process.
2. Minimal to zero downtime: You can resume your daily routine almost immediately after our Laser Hair Reduction service.
3. 90% hair reduction: Our session guarantees long-term relief with up to 90% hair reduction in just 6-8 sessions.
4. No ingrowths: Just smoooth, silky, soft, and selfie-worthy skin all day, every day!
5. Home-based experience: No more stepping out! Our experts will give you a clinic-worthy Laser Hair Reduction service at home.
6. Expert-backed service: Our sessions are dermat-backed, our experts are professionally-trained and they follow all COVID-safety protocols.
7. Pocket-friendly: With hair reduction up to 90% in just 6-8 sessions, you don't have to worry about monthly appointments. Also, if you do the math, you'll be saving BIG in the long run.
Needless to say, you and your skin are in safe hands at makeO skinnsi. It's our constant effort to make sure that you feel comfortable and safe during our Laser Hair Reduction sessions. We also have a dedicated customer care service that ensures you don't miss your sessions with us.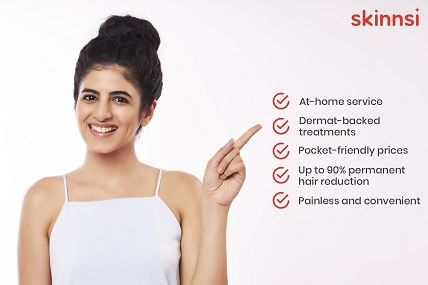 Why makeO skinnsi is better than temporary hair removal methods?
Despite the ows and ouches, temporary hair-removing methods are cost-effective and convenient, we agree. But imagine not having to worry about unwanted hair growth for a long time. Even better, having the freedom to wear sleeveless whenever you want.
makeO Skinnsi's LHR service gives you the benefit to skip time-consuming salon appointments. You can enjoy dermat-supervised and expert-backed service in the comforts of your home and at pocket-friendly prices. Now that's a win-win you'd not want to miss.
All in all, we hope finding a suitable hair removal method will be a tad bit easier now. Be it the razor or laser you opt for in the end, we only wish for happy and healthy skin for you!
However, if do decide to move on from temporary hair-removing methods to a more long-term solution, makeO skinnsi will always be happy to welcome you.
About makeO
makeO is the first of its kind at-home oral and skin care services in India, that is focussed on providing technology and science-backed solutions to its customers.
makeO will offer expert-backed oral and skin care solutions such as teeth alignment with clear aligners, laser hair removal, hydra facial, acne treatment services, anti-ageing treatments, and premium products, including electric toothbrush, teeth whitening kit, aligner cleaning foam, face wash, toner, etc. – all of which are available directly at customers' doorstep as well as at makeO experience centres and partner clinics.
AMPA Orthodontics Pvt. Ltd. An ISO 13485:2016 Quality Management System certified by Zenith Quality Assessors Pvt Ltd and US FDA Cleared.
© 2022 makeO. All right reserved.