Here are 6 Ways to Get Rid of Stubborn Pimple Scars
Not all girls dream of having a million dollars, diamonds, or a big mansion. Sometimes, all we dream of is to have clean and clear skin. But all thanks to pimples and pimple scars, that become a far-fetched reality.
Pimples can be avoided if you follow a healthy skin regime, eat a healthy diet, and try out DIYs. But what about those annoying pimple marks that stay for eternity? How to get rid of them? Is there a way? There definitely is.
We'll be telling you how to get rid of pimple scars in this easy-peasy guide.
Top 6 ways to get rid of pimple scars
1. Orange peel powder come to your rescue:
The next time you have an orange and decide to throw away the orange, do remember one thing - an orange peel can help you with your pimple scar.
An orange peel comes with the goodness of citric acid that lightens the pimple marks and brightens the skin. Powered with the goodness of citric acid that helps in lightening the marks and brightening the skin, orange peel powder is a godsend for those who cannot figure out how to get rid of pimple marks.
Here's how to use orange peel powder to treat pimple scars;
Ingredients you'll need: 1 teaspoon orange peel powder and 1 teaspoon honey
How to get rid of pimple scars using orange peel powder:
Mix orange peel and honey. Ensure that it is mixed properly to remove all lumps. The paste that would be formed should be smooth.

Once the mixture is prepared, you need to apply this paste to the affected areas.

Let the paste sit on the areas for 10-15 minutes. Then, wash it off with water and pat the skin dry.
2. Besan - let the powerhouse of the kitchen ease your misery
Besan is one of the many basic ingredients Indian households use. But, as much as it is useful in your kitchen, it is equally useful for your skin. Besan has been used as a natural scrub for ages; it comes with magical properties that don't only brighten your skin but lighten pimple scars.
Ingredients you'll Need: Rosewater, 1 teaspoon of besan and lemon juice
How to get rid of pimple scars using besan
Create a thick paste using besan, lemon juice and rose water.

Apply the paste to the affected areas.

Let it dry; wash it off with lukewarm water.
3. Coconut Oil
We are not strangers to the fact that coconut oil has been an elixir for the hair. But did you know coconut oil also works like a magic spell for your pimple marks?
Surprised? We bet you are.
Coconut oil comes packed with antioxidants, vitamins E and K, that support the growth of healthy skin cells. These healthy skin cells help in removing pimple marks.
Ingredients you'll Need: 1 teaspoon of coconut oil
How to get rid of pimple scars using coconut oil
Start by rubbing coconut oil between your palms. Then, apply gently over affected areas of your face. Leave the oil to sit overnight for best results. Then, wash it off in the morning.
4. Apple Cider Vinegar:
Whether it is to boost your metabolism or condition your hair, apple cider vinegar has been the go-to home ingredient for all major body-related issues. Not surprisingly, this magical kitchen ingredient also helps lighten your pimple marks.
It is an effective ingredient when it comes to maintaining the pH level of your skin. It is also known for soaking in excess oils to keep the skin pores. On top of it, the ingredient is a natural exfoliator that only leaves behind soft, supple and blemish-free skin.
Ingredients you'll Need: Water, 2 tablespoon honey and a tablespoon of apple cider vinegar
How to get rid of pimple scars using apple cider vinegar
Mix two tablespoons of honey with apple cider vinegar.

Dilute it with water to maintain the consistency of this mixture.

Apply this paste to your face using a clean cotton pad.

Let the mixture sit on your skin for 15 to 20 minutes. Wash with plain water.
5. Aloe Vera
Aloe vera has always held a good reputation for being a magical ingredient for hair and skin. Not so surprisingly, aloe vera is the ideal remedy for pimple marks. It comes packed with anti-inflammatory and antioxidants that fade pimple scars and reduce the chance of skin infections.
Ingredients you'll Need: Aloe Vera Gel
How to get rid of pimple scars using aloe vera:
Extract aloe vera gel from the aloe vera plant.

Apply a thick layer to the affected areas.

Leave it overnight.
6. Lemon Juice
A glass of lemon water can be therapeutic in the harsh summer months. It can also be extremely therapeutic for your skin, particularly pimple marks. Lemon juice is a natural bleaching agent that comes with lightening properties that can lighten pimple marks.
Ingredients/ Items you Will Need: Lemon juice and cotton pad
How to get rid of pimple scars using lemon juice:
Squeeze the lemon juice from half a lemon and apply it to the affected areas using a cotton pad.

You can also use your fingers to apply it.

Let it sit for 10-15 mins. Wash later with lukewarm water.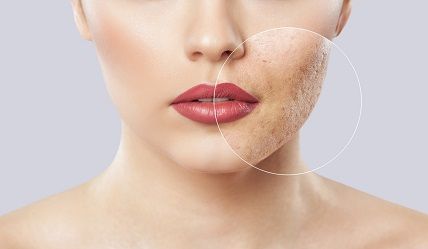 Final Thoughts:
Now you know how to get rid of pimple marks. All these DIYs are extremely helpful when it comes to treating pimple scars. However, if you think these tricks won't work for you or you are allergic to this treatment, you can go for our oil control facial. We can proudly say that we at makeO](https://makeo.app) skinnsi, are India's leading provider of skin-care services. Our team of expert dermatologists carefully attends to each skin problem to offer customized and effective solutions for your skin concerns. So, what is holding you back? Visit our website today and book a session with us!
About makeO
makeO is the first of its kind at-home oral and skin care services in India, that is focussed on providing technology and science-backed solutions to its customers.
makeO will offer expert-backed oral and skin care solutions such as teeth alignment with clear aligners, laser hair removal, hydra facial, acne treatment services, anti-ageing treatments, and premium products, including electric toothbrush, teeth whitening kit, aligner cleaning foam, face wash, toner, etc. – all of which are available directly at customers' doorstep as well as at makeO experience centres and partner clinics.
AMPA Orthodontics Pvt. Ltd. An ISO 13485:2016 Quality Management System certified by Zenith Quality Assessors Pvt Ltd and US FDA Cleared.
© 2022 makeO. All right reserved.