How to remove facial hair at home? Check 6 Easy Options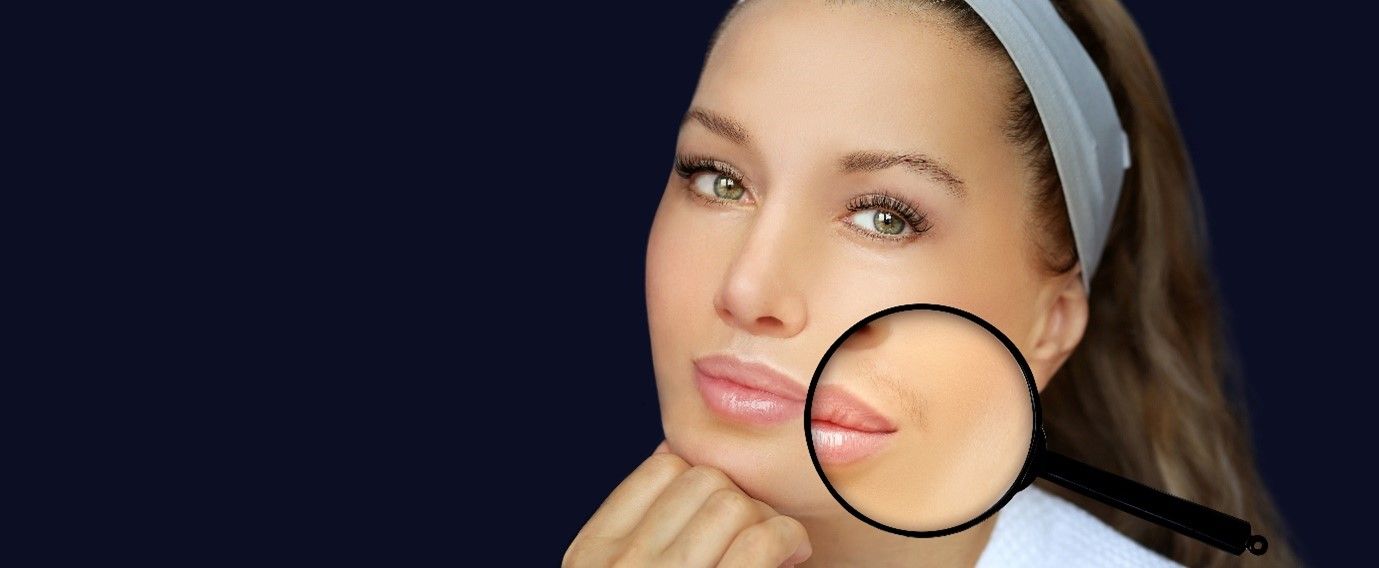 We always want our faces to look impeccable. This is why we use makeup and a wide variety of skincare products to keep it blemish-free, nourished and youthful. But more often than not, facial hair, especially in women, can be a bother when you're going for a glowing and smooth look!
While it is naturally occurring, many women tend to feel uncomfortable with facial hair and find ways to remove it regularly to achieve a flawless and smooth face. If you are someone who is uncomfortable with facial hair, then read on to find out how to remove facial hair using different methods.
How to Remove Facial Hair?
When it comes to facial hair, waxing and threading look like the best way to remove facial hair. But there are umpteen ways you can remove facial hair. The skin on our face is extra sensitive, and settling for a specific facial hair removal method that brings pain and rashes is utterly unhealthy.
Mirror-mirror on the wall, which is the best way to remove facial hair from them all?
Let's discuss the best facial hair removal method and you can choose whichever works best for your skin type.
Best Facial Hair Removal Method
1. Shaving
Shaving facial hair for women has come a long way. From being stigmatised and plagued with myths, shaving for women today is normalised. In fact, many beauty magazines and influencers today promote face razors as a way of removing hair, dirt and dead skin cells!
Pro Tip -
Face razors are life savers! They are specially designed to shave facial hair. Unlike the usual razors, face razor blades are smaller in size for precision and less sharp to save the face from razor cuts. So if you are trying to figure out how to remove facial hair at home, then a face razor is an easy option.
Downsides -
i) Hair grows back fast since hair roots are still intact.
ii) It might cause cuts and rashes if not used properly.
2. Waxing
Waxing helps remove hair from the roots. Hence, hair growth is slower. It is also considered the best way to remove facial hair, making the skin smooth and supple.
Pro tip -
Get waxing on hair length of at least ¼ inches for best results. This length will help the wax to grab onto your facial hair properly and remove it from the root completely.
Downsides -
i) Rashes may occur in people with sensitive skin.
ii)If you are under any skin treatment, waxing should be completely avoided.
3. Sugaring
Want to know how to remove facial hair at home using only natural ingredients? Sugaring might be the next best way to remove facial hair. A paste is created with lemon, water, and sugar. This paste is then heated well, so the consistency is thick (looks like wax), and all the ingredients are mixed. Once the sugaring pack is ready, it should be stored in a glass jar.
Sugaring can be considered the best way to remove facial hair for people who like playing with skincare at home!
Downsides -
i) Sugaring can cause side effects. A patch test of the mixture is recommended to avoid full-blown reactions.
ii) It's a comparatively conventional way of how to remove hair from the face. Not a lot of salons offer this service at the moment.
**4. Hair removal creams **
Wouldn't call it the best facial hair removal at-home method- but it is a way to remove it! Hair removal creams to remove facial hair are easy to use. The pack comes with a cream that must be applied to the skin. After 10-15 minutes, use a towel to wipe the hair off or use the spatula that comes with the pack to remove the hair.
Downsides -
i) Hair removal creams are infamous for skin reactions.
ii) Most hair removal creams have a pungent smell, which can cause irritation.
5. Tweezing
Tweezing is another best way to remove facial hair. It is handy and can be done anywhere. No prior appointment is needed.
While tweezing, the tweezer should be held as close to the root as possible to ensure the root is removed completely. Hygiene should also be maintained while using a tweezer; keeping the tweezer squeaky clean is crucial.
Downsides -
Tweezer should be used cautiously. If not, it can cause abnormal hair breakage.
**6. Laser hair removal **
Face laser hair removal doesn't need hot wax, plucking your hair, or sugar-coating your face (literally).
In this process, hair roots are removed with the help of a laser. Laser hair removal methods are pain-free or cause less pain (depending on skin type and texture). Since the hair roots are numbed through laser, new hair doesn't grow from the same roots.
And the best part? It lasts LONG! Face laser hair removal treatments are semi-permanent- which means it takes months for the hair to grow back. In some cases, hair never grows back! Some people also call it the best way to remove facial hair.
It looks like it costs more than other methods but in the long run, it will help you save tons of money. Additionally, imagine no weekly or monthly visits to the salon!
There are various methods to choose from when it comes to the best way to remove facial hair. Though the options are wide, only one lasts long laser hair removal. It is worth an investment. Customers have been consistently positive about the after-effects of the process. If you wish to save tons of money and say goodbye to facial hair, get in touch with makeO skinnsi today.
About makeO skinnsi Laser Hair removal
We at makeO skinnsi are motivated to provide you with top-notch services at the best prices. If you are looking for a more long-term facial hair removal solution, choose makeO skinnsi's laser hair reduction procedure. We not only use the latest 4-wavelength laser but also ice-cool technology to keep the skin cool and the removal process pain-free. Unlike other services, our laser works on all skin types and hair types and we offer at-home laser hair removal too!
Now you can save travel time and get your facial hair reduced permanently from the comfort of your home with makeO skinnsi. And if you are worried about the cost, we also offer affordable EMI options starting from Rs.3,019/month!
With a team of dedicated professionals with decades of work experience to care for your skin care needs, laser hair reduction becomes even more convenient with skinnsi! Along with laser hair reduction, we also provide effective and rejuvenating derma facials and acne treatments to improve your skin. Visit our website today and book your first appointment with us!
FAQs
How to remove facial hair permanently?
There is no way to remove facial hair permanently but if you choose laser hair reduction, you will get rid of your facial hair for anywhere between months to years. That's not all! This procedure permanently reduces your hair, so when it does grow back, it will be much less!
Is it OK to remove facial hair?
Yes, it is completely normal and safe to remove facial hair. There are many common methods of facial removal at home you can try like shaving, waxing, threading, hair removal creams etc.
Which is better: face wax or shave?
Waxing your face may result in 3-4 weeks of hairlessness. But with shaving, you will surely see growth in 3-4 days. Waxing still is not too popular for the face as some believe it can loosen the skin and cause redness and irritation too. So if you are looking for a more long-term solution, choose makeO skinnsi's laser hair reduction!
What is the side effect of removing facial hair? You will notice some redness, inflammation and irritation on the surface of the skin when you remove facial hair. Sometimes, removing facial hair leads to cuts, ingrown hair and burns too depending on the method used.
AMPA Orthodontics Pvt. Ltd. An ISO 13485:2016 Quality Management System certified by Zenith Quality Assessors Pvt Ltd and US FDA Cleared.
© 2022 makeO. All right reserved.