Transparent Braces: Here's How You Can Secretly Fix Your Misaligned Teeth
Are your misaligned set of teeth precluding you from giving your brightest smile? Does your hand reflexively cover your mouth when you break into a burst of joyous laughter? Nobody should feel apologetic about who they are or what they look like. So many people wish to fix their misaligned teeth but hold back due to the thought of heavy, inconvenient, and uncomfortable metal braces. Are you also one of them? If yes, let toothsi slide in and be your one-stop solution for crooked teeth. We provide remarkable at-home smile makeover services with our highly comfortable transparent braces! Stick with us to learn more about it.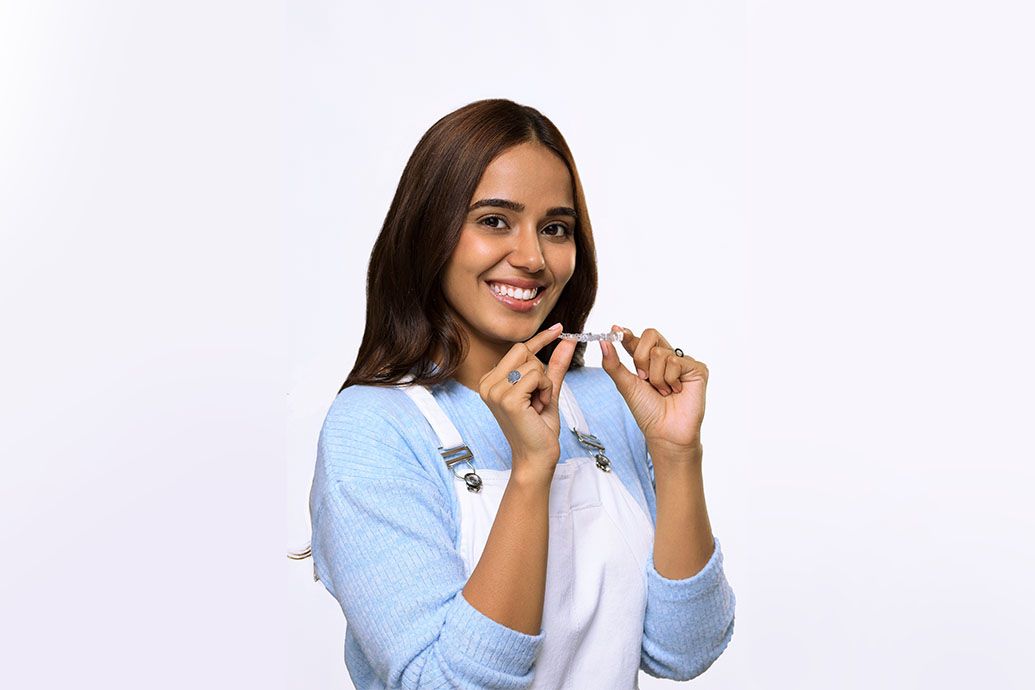 1. Age inlusivity Surprisingly, these transparent braces are age inclusive. When it comes to teeth straightening treatment, there is an unusual stigma attached to it; especially if you have crossed your teens, you are expected to be all hush-hush about your teeth straightening treatment. We understand; we got you! Our transparent braces will be your wingman through it all. They are invisible, painless, and customizable!
2. Easily removable Unlike mainstream metal monsters,** transparent braces** understand you. One of the best features of these braces is that you can pull them out while eating or brushing your teeth and wear them back thereafter. Make sure you wear them for at least 20 hours a day. Since they let you clean your mouth by brushing, flossing, gargling etc., they will help make sure that you maintain good oral hygiene. No need to look away from all your favourite meals. So be calculative, invest in these feasible braces and let yourself go!
3. Perzonalized With the advent of advanced technology, we at toothsi scan your teeth digitally, which helps our team of highly-experienced orthodontists identify the root cause of the problem to develop a toothsi plan of action just for you. There are several different kinds of misalignments arising from multiple factors like misalignment of the jaw, gum diseases or oral health problems. We use a 3D scan to comprehensively understand your misalignment problem and design your transparent braces accordingly.
4. Flexible Payment mode Procrastinating teeth straightening because of the hole that it might create in your pocket? Wondering how much transparent braces cost? Fret not! We offer smile makeovers at an economical cost, that too with easy payment options. Once you have made up your mind and we have your approval on the customized plan prepared for you, only then we proceed further. This means total satisfaction is guaranteed! You can also choose to pay in instalments with our easy EMI options. Invest only if you approve.
Transparent braces or clear aligners are braces made with BPA free plastic which is safe and reliable unlike those hurtful metal braces with transparent rubber. They are FDA approved, tasteless and comfy at their core. When you decide to ditch metal braces, let toothsi help you in your smile makeover journey. We have a highly efficient team of orthodontists who will prepare a customized smile makeover plan for you. And, if you face any discomfort or problem throughout your teeth straightening process, you can even book a video consultation with our experienced orthodontists. Make your first move by visiting our website and booking a free scan or ordering a teeth impression kit to quickly get started on your journey for a celeb-like smile.
At toothsi, we are perfectly equipped to provide you with uninterrupted at-home teeth straightening treatment. Our toothsi pros will make sure that they reach you wherever you are, once you book a free scan with us. We also have partner clinics across 13 cities, including Delhi, Mumbai, Chandigarh, Lucknow, and Jaipur. So, what are you waiting for? Create your dream smile by setting up a free scan with toothsi today.
AMPA Orthodontics Pvt. Ltd. An ISO 13485:2016 Quality Management System certified by Zenith Quality Assessors Pvt Ltd and US FDA Cleared.
© 2022 makeO. All right reserved.