Uncover the Best Teeth Straightening Option for Crooked Teeth
It is absolutely true that most people notice your smile first, in fact, even before other features. Moreover, your smile showcases your confidence even before you speak. That's the magic of having a confident and genuine smile. So, what's stopping you from having an awesome smile? Is it your problem of crooked teeth? Well, what if we tell you that it is possible to have a smile makeover without even stepping out of your home? Yes, you heard that right. At toothsi, we bring you the best at-home clear teeth straightening treatment.
If you have misaligned teeth, you might feel hesitant to smile openly and confidently. The most common teeth misalignment problem people usually face is crooked teeth, meaning when teeth are twisted, overlapped, angled or rotated. As crooked teeth can lead to complicated health problems and keep you from having a confident smile, it is advisable to get them treated in time. We have one of the best teeth straightening options for you – clear aligners. Read on to know about the interesting smile makeover journey with clear aligners.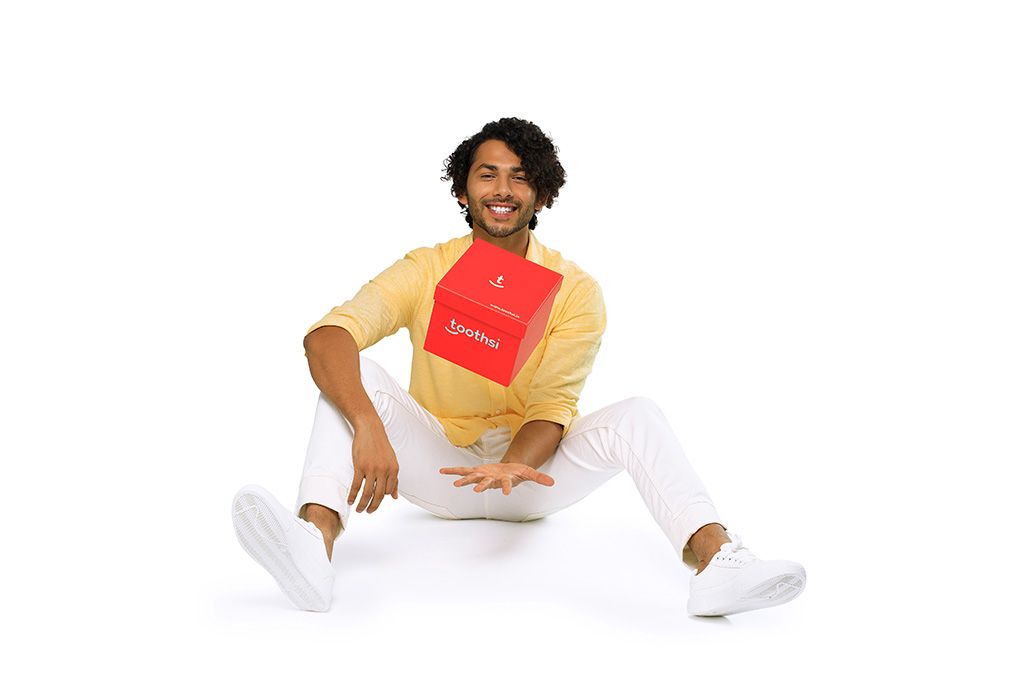 Let's start with understanding the problems crooked teeth can cause:
It might interfere with proper chewing
Keeping up with oral hygiene might become challenging, giving rise to tooth decay, gingivitis or cavities
Strain the jaws, muscles or teeth, which might increase the risk of breaking a tooth.
Hinder people's confident smile
Therefore, to keep away from such problems, it is important to get your crooked teeth treated as soon as you can. Moreover, teeth straightening is no more about those complex metallic braces. Instead, you can get your teeth misalignment problem fixed seamlessly with clear aligners. We've put together a few astonishing benefits of clear aligners for you:
1. Made of High- Quality Plastic
Clear aligners are made of high-quality plastic, unlike metal braces which have complex metal brackets and wires. Therefore, these clear aligners have the bare minimum chances of causing any injury or cuts in your mouth, making your teeth straightening journey safe and seamless.
2. Removeable
Clear aligners' removability is one of their attractive benefits. As these aligners are removable, they have a solution for most of the challenges people face with metal braces, like keeping up with oral hygiene. You can easily remove your clear aligners and brush your teeth properly without worrying about any injuries or cuts, thus, maintaining your oral hygiene.
3. Customized and comfortable aligners
The teeth straightening process with clear aligners starts with the 3D scan, which gives an exact picture of your misalignment problem, which may be crooked teeth or any other problem. After that, according to your teeth alignment, we prepare a tailored smile makeover plan. Once you approve the plan, we print clear aligners for you, which are made of high-quality and BPA-free plastic (non-carcinogenic). As these are customized, they fit perfectly on your teeth, are highly comfortable to wear and easy to handle.
4. No restriction on eating habit
For a few people out there, eating with limitations might be a factor holding them back from getting their teeth straightening treatment done. How about getting your teeth straightened without any restrictions on your food habits? This might make most of you consider teeth straightening right away! As these clear aligners are removable, you can easily take them off before starting with your meals, enjoy your meal, brush your teeth, and you're all set to wear them again.
By now, you must've got a fair idea of how seamless it is to have perfectly aligned teeth with toothsi. To make it even more convenient for you, we offer at-home smile makeover services PAN India at reasonable prices, which are supported by home impression kits, video consultation with expert orthodontists and much more to take care of all your needs. Additionally, we have our partner clinics across 11 cities, including Mumbai, Bangalore, Chandigarh, Pune, Hyderabad and Delhi/NCR.
All you need to do is book a free consultation and rest assured that your smile is in good hands.
AMPA Orthodontics Pvt. Ltd. An ISO 13485:2016 Quality Management System certified by Zenith Quality Assessors Pvt Ltd and US FDA Cleared.
© 2022 makeO. All right reserved.