Wedding Beauty Regimen: How to Do Bridal Skincare at Home?
Does skincare ring a bell when you talk about weddings? Of course, yes! Any bride is incomplete without a bridal skincare routine at home.
Women have the exact details of how they wish to have a wedding since they were little girls. From the type of outfit they want to the location and whatnot. Looking their best version on their wedding day is top of that list. Now that the focus is being shifted towards natural skin instead of heavy makeup looks, good skincare before the wedding has become a staple for every bride.
Alia Bhatt and her wedding look have solely endorsed bridal skincare at home. Her skin had enough glow. It didn't require extra ostentations, which inspired many young brides to curate their own bridal routine for glowing skin.
A wedding is a busy affair- food arrangements, decorations, invitations, etc. It can distract the bride from taking care of her skin. A bridal skincare routine at home doesn't happen overnight, it takes time for the skin to show results.
Early planning is key for bridal skincare at home!
The past few years have been tough for everyone. With the full-blown pandemic hitting us, it took a toll on us. On the brighter side, we discovered some breathtaking skincare hacks; cost-cutting can make us do crazy things.
There are some tried and tested skincare hacks the bride can follow at home.
Heads up These hacks will not provide an instant result. For quick and effective results- do consult an expert.
Most Effective Pre-Bridal Skincare Hacks
1. CTM
Let's start with the roots of the bridal skincare routine at home- CTM (Cleansing-Toning-Moisturizing).
These 3 steps are a love language for your skin and this process is effortless but effective!
Step 1: Cleansing
Cleansing with a face that suits your skin type will make your skin squeaky clean, and ready for the next step.
Step 2: Toning
Using a toner after cleansing is given as it cleans and opens the pores, and toner tightens them again. Furthermore, toning has been well known for its long-term benefits for healthy-looking skin.
Step 3: Moisturising
Once cleansing and toning are done, moisturising is the final step. This step helps bring back moisture, making the skin look hydrated and supple.
This was the CTM routine brides swear by as it's simple and works for every skin type.
Pro Tip
Fill your products in travel-friendly containers and pack them in your bag so you never miss your CTM routine!
Add these 3 easy steps to the skincare routine for the bride to be, and you're good to go.
2. De-tanning homemade mask
Tanning is the most frustrating beauty problem, and keeping it in check is crucial during the wedding season. This face and body mask will ensure a tan-free experience for the brides to be.
Ingredients:
6 tablespoons chickpea flour

2 tablespoons tomato puree

2 tablespoons fresh lemon juice

2-3 tablespoons of milk

A pinch of turmeric powder

4-5 drops of your favourite essential oil
How to use:
Mix all these ingredients in a bowl until a thick paste is formed. Once the mixture is ready, apply the mask to your face, hands, legs, stomach and back.
Let the mask sit until it dries up completely, then take a bath with lukewarm water and wash the mask off your body.
You will see an instant glow in your body, and the tan will be completely gone after 2-3 applications of the same mask.
Note: You can apply this mask once every three days for best results.
3, Armpits lightening mask
When we think of skincare, we tend to overlook some of our most important areas, including armpits, so here's a no-brainer armpit mask you can make and apply to get lighter and cleaner armpits.
Ingredients:
2 tablespoons of red lentil (masoor daal) powder

1 tablespoon of fresh lemon juice

4-5 tablespoons of milk
How to use:
Mix all the ingredients into a bowl until they form a paste-like consistency. Once your paste is ready, apply it onto your armpits and let it rest for 10-15 minutes. After 15 minutes, wipe the mask off with a wet cloth.
You will notice an instant difference in how your armpit skin looks and feels.
4. Anti hairfall treatment at home
Did you think we'd forget about our bride's hair? The bridal skincare routine at home is incomplete without proper hair care. Skin care before the wedding is important, and so is hair care.
Though hair care might be different for different hair types, here is one magic recipe that will work for everyone's hair (please consult your doctor if you are under skin treatment).
Ingredients:
500 ml coconut oil

20 ml castor oil

50 ml olive oil

5 tbs methi (fenugreek)

5 tbs kalonji (fennel flower)

Glass jar
Put all these ingredients in a clear glass jar and mix it well. Now comes the fun part, put the jar in the sun for 7-15 days.
Naturally, sun heat will help the ingredients mix well with each other, and the oil will become magical for your hair. Hair fall problems will diminish from a single use and eventually completely stop.
Pro tip
Once the oil is ready, heat it for 5-10 seconds and then apply to get best results!
The benefits are countless; you will see the results from the first application itself.
5. Body polishing for the win!
The last step has to be the most significant one - body polishing! A bridal skincare routine at home will be futile without full body polishing.
What exactly does body polishing mean?
Body polishing is an intensive exfoliation process which removes the dead cells from the body and promotes the regeneration of new cells. Sounds unreal! But it's true.
Ingredients -
Half cup baking soda

Half cup of freshly squeezed lemon juice

2 tablespoons coconut oil

4-5 drops of lavender essential oil (you can use any oil of your choice)

Mixing bowl
How to use:
Mix all the ingredients in the bowl and apply them to your body. Massage well, so the ingredients seep into the skin completely. Wash it off in 10-15 minutes with lukewarm water.
This step will take your bridal skincare routine at home to another level!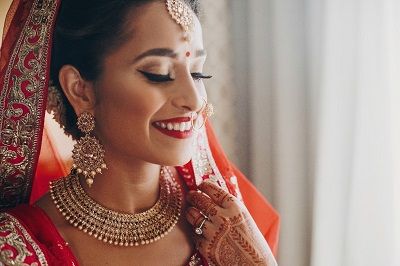 These are some tried and tested methods that can be added to the skincare routine for the bride-to-be.
Even though a bridal skincare routine at home is a great option, remembering all these steps in between the wedding chores might not always be feasible.
We also have a hack for that - At-home bridal care services so the bride doesn't have to worry about mixing the ingredients and can sit back and relax like a princess!
makeO skinnsi offers at-home services for all your pre-bridal needs! The bridal skincare routine at home has never looked this easy.
With experienced professionals and budget-friendly rates, makeO skinnsi aims to ease the bride's non-stop visits to the salon.
Visit our website today and select your customised pre-bridal package!
AMPA Orthodontics Pvt. Ltd. An ISO 13485:2016 Quality Management System certified by Zenith Quality Assessors Pvt Ltd and US FDA Cleared.
© 2022 makeO. All right reserved.