toothsi spark | teeth whitening kit ( 2nd gen )
out of stock
this item will be in stock soon
are you smile-ready for the morning meeting or night party? introducing the revolutionary toothsi 2nd generation whitening kit which has unique PAP technology based whitening gel and portable whitening accelerator mouthpiece with blue LED technology. order today and get pearly white, confident smile anytime anywhere! order gets delivered within 7-10days
-advanced PAP formulation for safer and whiter teeth
-wireless technology for a hassle-free experience
-easy to use
-can be used from the comfort of your home
-safe for tooth enamel
-Causes no sensitivity
-The gel is CE, CPSR, RoHS certified
step 1 - rinse the mouthpiece tray and your mouth before use
step 2 - record your present teeth shade to track the shade changes in every session
step 3 - twist the pen until gel appears on the tip. it may take up to 20 rotations when using the pen for the first time
step 4 - apply the thin layer of gel on the clean and dry teeth surface. always apply the gel on a dry surface to avoid dilution of the gel
step 5 - use approximately .5 ml to .7 ml of gel. in case of confusion, the thumb rule is that the gel should be enough to just cover the front surface of the tooth
step 6 - attach the tray to the LED whitening accelerator mouthpiece, press the power button on after removing the cover over the batteries to switch it on
step 7 - before starting the procedure take a deep breath to avoid the formation of excessive saliva, which can be wiped off with a tissue if needed
step 8 - remove the tray after 12-15mins. for best results keep up to 30mins. rinse the tray with water followed by your mouth to clean all the gel
step 9 - do not consume anything except water for 30 minutes after the completion of the procedure.
step 10 - compare your teeth shade with the shade card provided in the kit
step 11 - repeat the above procedure once a day for 9 to 12 days
3 toothsi spark | teeth whitening pens
1 food grade mouth tray
1 LED light
1 PVC shade card
1 user manual
it's easy, safe & comfortable
just apply, wait, rinse and smile. As wide and bright as you can!
want brightest smiles?
so don't wait! get upto 5 shades whiter teeth, from comfort of your home.
need reasons to use spark?
we are easy-to-use, enamel safe and you use us from comfort of your couch!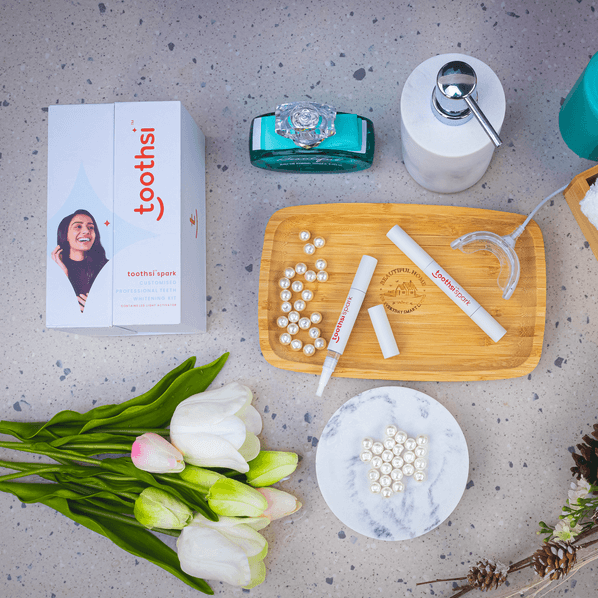 frequently asked questions
What is toothsi spark teeth whitening kit?
toothsi spark teeth whitening kit gives you brighter, shiner teeth at home. It comes with LED lights and a cold light technology that make the gel react faster during the process. Goodbye yellow stains!
How many toothsi spark pen are included in the teeth whitening kit?
You will find 3 whitening pens in the kit!
Why do I use toothsi spark teeth whitening kit?
toothsi spark whitening kit helps you get pearly white teeth from the comfort of your home! Yes, that's right! And the best part, it is safe for your tooth enamel and will cause no sensitivity issues.
What are the ingredients of the gel?
toothsi whitening gel is FDA, CE, CPSR and RoHs certified. It is made of Sorbitol, Aqua, Phthalimidoperoxycaproic Acid(PAP), Propylene Glycol, Glycerin, Potassium Nitrate, PEG-8, Hydroxyapatite, Cellulose Gum, Hydroxyethyl Cellulose, Xanthan Gum, Saccharin Sodium, Menthol, Methylparaben, Aloe Barbadensis(Aloe Vera) Leaf Juice, Chamomilla Recutita Extract, Punica Granatum Seed Extract, Sodium Bicarbonate, Propylparaben
What is the shelf life of the gel?
It has a shelf life of 6 months!
Do I need to brush before using the teeth whitening kit?
Yes! You need to either rinse your mouth with water or brush your teeth to get rid of food particles before you apply the gel. This helps you get the best results.
How do I get the gel out of the pen?
Give it a nice shake and then twist the base of the pen to get the gel out! As simple as that!
How long do I wait before eating?
Patience is the key. Do not eat, drink or smoke for atleast one hour after each session of teeth whitening process. Trust us, it's worth the wait!
Is the LED tray and gel safe?
Yes, 100%. They both are enamel safe!
After how many applications will I be able to see results?
You will get whiter teeth in the first application. But the shade will vary from person to person.
Is the teeth whitening permanent?
It's a one-time process! But the results may vary in people, depending on their tooth shade.
For which type of teeth is the whitening kit not suitable?
It is not suitable for teeth that are severely decayed or discoloured because of medicines
Will I feel sensitivity after using the kit?
No! However everyone's teeth is different and it is completely normal to feel slight sensitivity. One can apply desensitization gel to ease discomfort)
Can the teeth whitening kit be used by pregnant ladies?
No! It is advised that pregnant women, mothers who are breast-feeding their babies, and children under 14 years of age should not use the toothsi spark whitening kit.
How to use teeth whitening kit?
Wondering how it works? Let us tell you how it all happens, step by step.
Step 1: Rinse your mouth before using our spark teeth whitening pen.

Step 2: Shake the pen and then twist the base of the pen to get the gel out.

Step 3: Apply gel with the whitening pen to your teeth!

Step 4: Put the LED light tray over your teeth.

Step 5: Rinse after 20 minutes and Smile!

Step 6: Repeat!
What is the cost of teeth whitening kit in India?
When compared to the cost of other brands available in the market, the cost of toothsi spark - teeth whitening kit is just ₹5,499, and this whitening kit 3 teeth whitening pens, 1 UV LED light tray, 1 adapter for iPhone, Type-C & USB, User Manual and 1 PVC shade card.
Besides high teeth whitening costs, most of the brands also require you to visit an orthodontist's clinic multiple times. Whereas at toothsi, you can get whiter and brighter teeth at the convenience of your home! Also, you will easily notice the difference and get whiter teeth in the first application. But the shade may vary from person to person.
What are the pros of having a teeth whitening kit?
Let's look at some pros of owning one:
• Quick fix: With toothsi's Spark Teeth Whitening Kit, you can whiten your teeth, all by yourself, in just 30 minutes! This instant teeth whitening kit makes your teeth 5 times brighter in just 9 applications.
• Easy on pockets: A budget-friendly one-stop solution for getting those pearly whites in minutes.
• Convenience: Stop worrying about your teeth turning yellow! Yes, get brighter teeth and a dazzling white smile with toothsi spark - an at-home teeth whitening kit in a painless and super convenient way.
• Easy-to-use & safe: toothsi spark is super-easy to use and enamel safe. Want some more reasons? Our teeth whitening kit is also FDA, RoHs & CE certified.
• Your confidence will increase: A whiter smile means a more confident you, as you are no longer concerned about what others may think when you flash your grin. Your brighter smile speaks for itself!
AMPA Orthodontics Pvt. Ltd. An ISO 13485:2016 Quality Management System certified by Zenith Quality Assessors Pvt Ltd and US FDA Cleared.
© 2022 makeO. All right reserved.