what's on your mind?
These frequently asked questions will help you clear the doubts. If you don't find what you are looking for, contact us.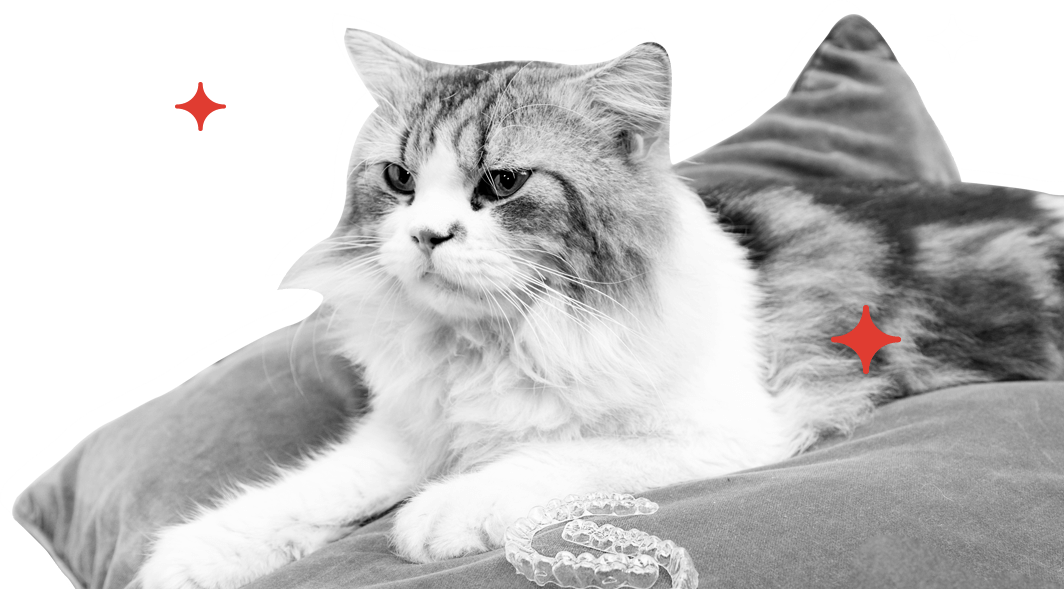 about the aligners
what are makeO toothsi clear aligners?
they are clear plastic trays that are 3D printed as per the shape of your mouth that help in fixing alignment issues such as crooked teeth, teeth gaps etc. the best thing about invisible aligners is that they give you the smile you've always desired, without the pain, inconvenience and food restrictions of braces. this is the best alternative to traditional braces for treating orthodontic issues like gaps in teeth, overcrowded teeth, crossbite, underbite, open bite, and forwardly-placed teeth.
how do the makeO toothsi clear aligners work?
makeO toothsi clear aligners work by applying gentle pressure to your teeth to move them into the correct position to give your desired smile.
why do I need aligners for both my upper and lower teeth if I only want to change one?
in order for your smile makeOver to be completed efficiently, your bite would require the support of both your upper and lower teeth. We consider crowding, open bite or gaps between teeth while deciding on a treatment plan. That's why even if the problem persists only in the upper jaw, the lower jaw needs to be aligned accordingly. If we ignore the other half, the problem could escalate the issue concerning the positioning and bite of your teeth.
what are benefits of clear aligners?
Unlike braces, clear aligners give you the following benefits: they are almost invisible to naked eyes, pain and discomfort of braces will not bother you with them, clear aligners are removable so easy to maintain oral hygiene,
What is cost of clear teeth aligners in India?
The cost of clear teeth aligners in India is vary from approximately INR 30,000 to 90,000 depending on the teeth issue. "toothsi easy" package offers ₹2,786/month on EMI & "toothsi prime" package offers ₹6,497/month on EMI.
during the process
how long does a typical smile makeOver take?
as the saying goes, good things take time. the treatment time varies on the severity of your case.
do I have to visit an orthodontist office during my treatment?
The treatment is monitored by orthodontists remotely. You can always reach out to our experts in case of concerns.
will someone be checking in on me during my treatment?
you can get in touch with our experts via the makeO app. we will remotely monitor your case for which you will have to share photos and videos of your progress, in case of any queries you can always reach out to us on the app.
what is an Impression kit?
in case we cannot conduct an at-home scan in your area, you can use our impression kit which allows you to take an impression of your teeth, which our experts will analyse to create your personalized smile makeOver plan
how do I take the impressions?
we will schedule a call with our expert orthodontist who will guide you through all the steps. we recommend you do not try taking impressions before the call
what happens after I send the impressions?
Once we receive your impressions, our team of expert orthodontists get to work. They will make your smile makeover plan using the impressions you send.
how do I know when to switch aligners?
you will receive a schedule for the same with your smile makeover plan and also receive timely reminders from the makeO app!
can I talk with the aligners clearly?
absolutely! our clear aligners will not impact your speech in anyway.
if I am sick, should I keep wearing my aligners?
Your aligners won't affect your health. But, if you feel uneasy wearing them while you are sick, do take them off. Especially, when you feel like throwing up.
we recommend you to kindly follow the schedule shared with you in your smile makeOver plan. in case of any queries regarding the same you can get in touch with us via the makeO app
what if I lose an aligner?
you can easily order a replacement from us and we will ship it to you as soon as possible.
what happens if things aren't improving as promised?
your smile will be corrected in the allotted time frame if you follow all the instructions correctly. in case of a scenario where things are not improving, our expert orthodontists will tweak your plan accordingly.
do I have to wear a retainer after treatment?
Yes, you have to wear it after the treatment. Wear it 24x7, except while brushing and eating meals — follow this for 3 months. Post this, wear it only before you go to sleep. We provide the first set of retainers. They will last you for 6 months. After that, you can easily purchase it from us.
how to start your toothsi smile makeover journey?
Visit toothsi by makeO(https://makeo.app/toothsi) & and book a free at-home 3D scan, toothsi pro will visit you and take scans of your teeth, using which our orthodontists will prepare your smile makeover plan, this plan will be shared with you virtually, for you to actually see how our aligners will give you the smile you've always wanted, when you're satisfied with the plan is we ask you to make the payment. Post that, your clear aligners will be delivered to you within the next few weeks.
how to care for your teeth after a smile makeover with clear aligners?
As per orthodontists' instructions, you may need to wear retainers for 22 hours a day, avoid consuming hard, crunchy food for the first initial few days, start brushing your teeth twice a day, even after you have completed your smile makeover, you need to visit your dentist at least once every 6 months. This is to ensure your new pearly whites stay as new as ever.
how to maintain clear aligners?
keep your clear aligners in a dry box Every time you remove your invisible aligners, do not rest them on a napkin. There is a huge chance of bacteria building up on it so you need to clean it daily, rinse your mouth well after meals to ensure no food particles get trapped in your aligners,
what is the process of toothsi aligners?
visit our nearest clinic for a scan or send the impressions of our teeth to our clinic. Our dentist will do a thorough study and based on the complexity of your case, will suggest a smile plan, Once we receive your approval for the smile plan, our orthodontists begin to create molds using 3D machines. They are then sent for the aligner-punching process to create clear aligners. Once the teeth aligners are made, they are marked for easy identification and polished. Later, they are sterilized and dispatched to the customers.
is toothsi clear aligners treatment process is safe?
toothsi clear aligners are safe for your teeth because ISO 13485 Certified, toothsi PETG and Duo sheets are US FDA cleared. toothsi uses sheets that are elastomeric resilient, ultra-clear, flexible and triple-layered.
AMPA Orthodontics Pvt. Ltd. An ISO 13485:2016 Quality Management System certified by Zenith Quality Assessors Pvt Ltd and US FDA Cleared.
© 2022 makeO. All right reserved.