Why Laser Hair Removal Remains Popular Choice with Women
Are you one of those who feel like their wardrobe options are being ruled by your unwanted body hair? Do you dread making frequent trips to salons for something as simple as getting rid of unwanted hair? Well, then you're not alone. We completely feel ya and hence we're here to help you choose the right method of hair removal for women and men and get that silky soft hair-free skin for all areas of the body without the nicks, cuts or rashes. Keep reading to break-free from the cycle of lifelong inconvenience, effort and expenditure!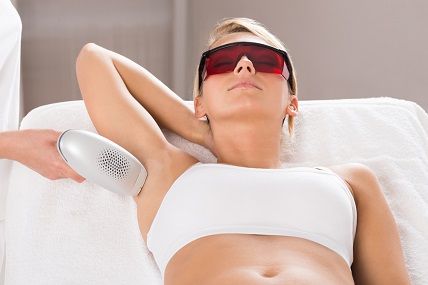 Before we surround you with a lot of useful info on selecting the best option for hair removal, let's learn a little about the evolution of different approaches of body hair removal for women.
From Razor to Laser, Rich History of Hair Removal for Women
1900s
First razor for body hair removal for women was invented.
1940s
The first electric razor was developed by Remington in 1940. More and more products of hair removal were introduced in the marketplace as ladies were obligated to go bare legged more frequently.
1960s
Wax strips made their first appearance in the 1960s and instantly became popular.
1970s
Electrolysis was around for quite some time, but only became more usable and safer with the development of transistorized equipment. It always was and still is a slow and tedious process.
1983
Scientists discovered that targeting individual hair follicles was the key to hair removal. This was the only method that would prevent hair growth. However, the lasers used were either too low in power or too high in power, posing a risk of burns.
Present
We've come a long way in the quest of getting rid of unwanted body hair. We live in an age where procedures are safer and pocket friendly. Heck, you don't even need to visit a clinic or a salon any more. Isn't that something! makeO skinnsi is India's first ever at-home laser hair removal service which provides personalized solutions based on an individual's requirements. Our services are performed by trained professionals and backed by expert dermats having 10+ years of experience. You can easily book an appointment here
Alright enough marketing! Back to the relevant stuff.
Apart from laser hair removal, let us also tell you about other different methods available for body hair removal for women, their pros and cons and leave it up to you to pick an appropriate one for yourself.
Different Hair Removal Methods for Women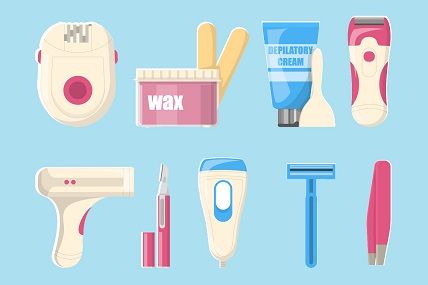 1. Shaving
Shaving has always been a go-to method for hair removal because of its accessibility. Razors available for women nowadays are more sleek and travel-friendly.
Pro: Quick and convenient, affordable and chemical free.
Con: Can cause razor burns, cuts ingrown hair, prickly hair growth and scaly skin, offers short-lived results, and requires frequent repetitions.
2. Trimming
A trimmer is equipped with more features and attachments than a regular razor, offering dry, quick and easy shaving. Although this gadget is affordable and super-convenient to use, it works with less precision than your age-old blade.
**Pro: **Quick, easy and safe for sensitive skin
**Con: **An ineffective method, works with poor precision and offers short-lived results, causes prickly hair growth and again, requires frequent repetitions
3. Hair Removal Creams
Hair removal creams are quite a hit amongst women as they provide painless hair removal and are suitable for usage on smaller parts of the body, even the privates. Depilatory creams are chemical-based and help to get rid of excess hair quickly! Compared to the original hair, the newly developed hair is softer.
**Pro: **Easy, pain-free and affordable
Con: Messy method, harsh chemical formula with a pungent odor which can cause skin irritation and allergic reactions.
4. Tweezing
Tweezing basically involves the use of tweezers to uproot the whole hair shaft. Most ideal for removing stray strands with precision. Although this option is easy on the pockets, any breakage of hair while tweezing can increase the risk of ingrowth.
Pro: Affordable, home-based, precise
Cons: A painful method that causes ingrown hair and skin irritation, unsuitable for use across extensive areas of the body
5. Waxing
Waxing has become quite a household name as waxing strips are pretty easily available and one does not necessarily have to visit salons. It's self use and quite convenient. You can opt for waxing if you have a high pain tolerance.
Pro: A quick and effective method for relatively long-lasting results
Con: Self-use is messy while salon service is expensive; ineffective for removing short hair, causes pain, redness, skin irritation and ingrown hair
6. Epilators
Epilators have become quite a must-have in one's travelling kit. They are compact and removes unwanted hair effectively.
Pro: Easy and chemical-free option for self-use, removes hair as short as 0.5 mm, gives ultra-smooth hair-free skin and long-lasting results
Con: Unsuitable for sensitive areas as it causes skin irritation
7. Laser Hair Removal
Laser hair removal is an aesthetic treatment that covers larger surface areas because the lasers come in different wavelengths and emit pulses of light every second. It's quick, painless and efficient, or as my millennial friend says "it's supercalifragilisticexpialidocious". The best part is that it is suitable for all skin and hair tones and types. It's a one-time investment to get hair-free silky soft skin for life!
Pro: A painless, super-safe, convenient, gentle and cost-effective solution that results in permanent hair reduction. Infact makeO skinnsi's laser hair removal procedure is performed by trained professionals and is backed by dermatologists. All of this is done from the comfort of your home!
Con: Might be relatively expensive but makeO skinnsi offers EMI options which makes the treatment quite affordable
Most Common Areas for Laser Hair Removal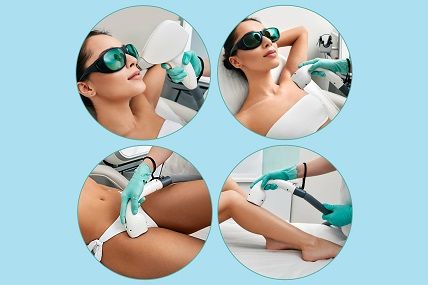 Face: Facial hair removal for women is quite common. It reduces the ingrowth of hair and bumps or cuts occurring from frequent shaving, threading, or waxing on the face and neck. Click here to know more about facial hair removal for women.
Legs: Legs remain a popular body part for removing unwanted hair for men and women equally. Imagine never having to shave your legs again! You can book a laser hair removal sessions for legs here.
Underarms: No more ditching that sleeveless top or cancelling those impromptu swimming plans because of unwanted underarm hair. Boost your confidence at the gym by getting rid of underarm hair with laser hair removal. It's a short procedure that will make your life so much easier. Click here to book an appointment for removing unwanted underarm hair.
Chest: It's a misconception that only men will have chest hair and would want to get rid of it, but it's a common issue with women too. So performing laser hair removal seems like an ideal solution to get that smooth silky hair-free skin that stays that way! Permanent hair reduction for chest is just a click away.
Back: For men who prefer a smooth, hairless back, laser hair removal is the way to go. Back is a difficult area for one to remove unwanted hair on their own. So to skip those frequent salon visits or calling someone over to assist you with back hair removal, we recommend you go for laser hair removal. Click here to know more.
Bikini: ​​Removing the hair along their bikini line is quite common and many women opt for it. One may choose to shave or wax this off but doing so in such a sensitive region can be uncomfortable and can irritate your skin. Laser hair removal for the bikini area is preferred by many women to have that permanent fuzz free bikini line. Book a laser hair removal session for bikini area.
Excited to try out laser hair removal but don't wanna spend hefty amounts of money? We got your back. makeO skinnsi offers a trial session only for Rs.499. Click here to book your trial session.
About makeO
makeO is the first of its kind at-home oral and skin care services in India, that is focussed on providing technology and science-backed solutions to its customers.
makeO will offer expert-backed oral and skin care solutions such as teeth alignment with clear aligners, laser hair removal, hydra facial, acne treatment services, anti-ageing treatments, and premium products, including electric toothbrush, teeth whitening kit, aligner cleaning foam, face wash, toner, etc. – all of which are available directly at customers' doorstep as well as at makeO experience centres and partner clinics.